Taking a bow after a ROTLT production of
Double Indemnity
Even Radio on the Lake Theatre's cats do sound effects!
Mission and Vision


Radio on the Lake Theatre is a professional theater company specifically dedicated to the preservation, creative development and educational outreach of the radio theater genre.



Through performances of classic scripts, new play development, educational initiatives and outreach to visually impaired children and adults, Radio on the Lake Theatre seeks to become a guiding light for radio drama in the Northeast Ohio region and beyond.
Radio on the Lake Theatre is a CLEan House Theatre. This means we are committed to being a space free of harrassment based on sex, gender, race, religion, class, ethnicity, nationality, political belief, or ability. We are committed to being a safe environment that fully allows us to challenge ourselves, our audiences, and our communities; that supports creative risks of mind and body; and that establishes the freedom to create theater that represents the full range of human experience.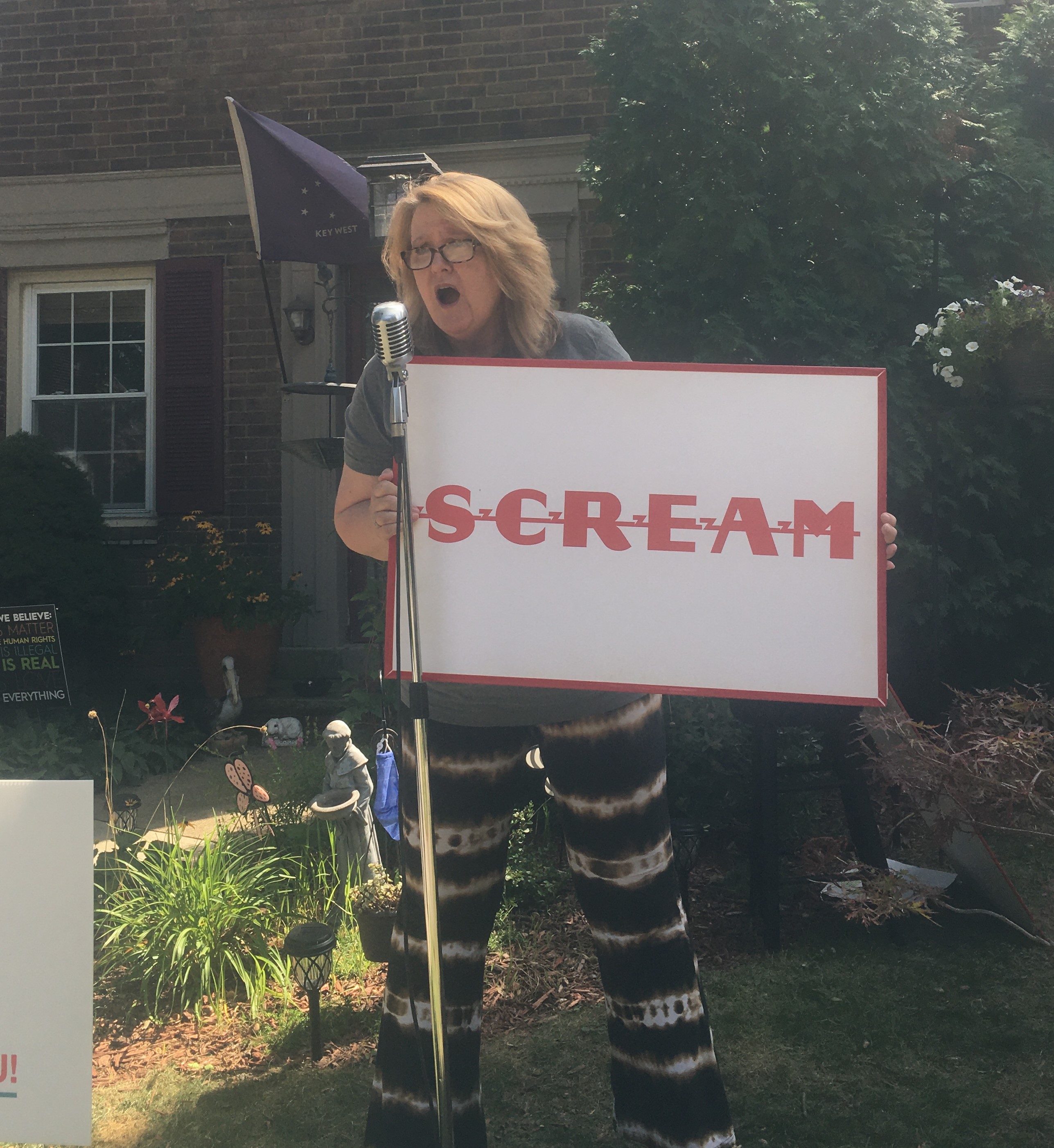 Leading an audience scream during an outdoor production of
War of the Worlds
Our Story
The History of Radio on the Lake Theatre


Radio on the Lake Theatre came to life as the Arts Radio Network Theatre Project in 2002. It was initially developed as an outreach program for NPR member station WXEL in Boynton Beach, FL. In 2015, ARNTP partnered with Miami-based NPR member station WLRN to create WLRN Radio Theatre, a series of classic radio plays performed in venues throughout South Florida, including the Broward Center for the Performing Arts in Ft. Lauderdale, Arts Garage in Delray Beach, and the Studios of Key West. Those performances were recorded and broadcast on WLRN once a month. The company received a challenge grant from the John S. and James L. Knight Foundation to create the Inspired By… series with WLRN, and the inaugural Creative Endeavor grant from the Cultural Council of Palm Beach County. ARNTP, now Radio on the Lake Theatre, relocated in 2017 to Shaker Heights, Ohio.





War of the Worlds
performed at Old School Square in Delray Beach, FL


Meet Our Team

Staff & Board of Directors

Caroline Breder-Watts
Executive Director & Co-Founder

Caroline has enjoyed a diverse career in the arts for the past 30 years, with projects in radio, theater and film. While serving as Director of Communications for the late, great Florida Stage, she started a concurrent career in public broadcasting in 1992 at WXEL-FM in Boynton Beach, FL and spent the next 19 years in a variety of capacities, including pledge producer and host of two programs on the arts, South Florida Artsview and Listening to Movies. She has also worked as host, producer and fundraiser for Classical South Florida, WLRN-FM in Miami, and currently, ideastream in Cleveland, Ohio. Caroline has played a variety of roles in Radio on the Lake Theatre's history, including actor, director, producer, stage manager and music coordinator. A lifelong film enthusiast, she currently produces a podcast for The Columbus Moving Picture Show in Columbus, Ohio (visit iTunes for the latest episodes). She co-founded Radio on the Lake Theatre with her husband, John Watts.




John Watts
Artistic Director & Co-Founder

John has spent the past 25 years as a producer for both audio and video productions, which have taken him from South Florida to Australia to Barcelona, Spain. He founded Radio on the Lake Theatre in South Florida in 2002, and the company performed in venues throughout the region, including The Broward Center for the Performing Arts, Old School Square in Delray Beach, the Humphrey Bogart Film Festival in Key Largo, and The Studios of Key West. Upon moving the company to Shaker Heights in 2017, he has become actively involved in the local theater community, partnering on productions with Playwrights Local, Gates Mills Players, Shaker Heights Arts Council and The City is Our Stage. John was nominated in 2019 for the Broadway World Regional Award for Best Sound Design.





Mimi Watts
Head Usher & Director of Feline Experience

Mimi Watts is a seven-year-old tuxedo cat who constantly interrupts rehearsals and recordings by being unbelievably cute and demanding to be petted. She might have difficulty showing you to your seat, but she will definitely give you lots of love to make up for it.









Natalie Bauman
Board Member and President

Natalie Bauman's love of storytelling began while listening to radio mysteries as a child, and eventually led to her professional work as a video producer, director and writer. For over 35 years, Natalie has created programming for PBS and other broadcast channels, and marketing, training and educational pieces for numerous corporate, non-profit and educational audiences. Natalie taught numerous scriptwriting, creative writing, film studies and video production classes at the Raymond Walters College at University of Cincinnati. Since returning to her hometown of Cleveland in 2003, Natalie worked directly with families, Holocaust Survivors and senior living facilities to create personal documentaries. This work led to the founding of The Digital Mosaic with the custom SimplyTold app, which enabled user-generated content for community and collective storytelling. She is a certified Arts Educator, teaching Digital Media programming through the Center for Arts-Inspired Learning. Natalie now serves as the Creative Services Manager for Step2, a toy and home goods manufacturing company.




Heidi Harris
Board Member and Secretary

Heidi Harris, a native of North East Ohio, brings to the board over two decades of experience in theatre education as well as 30 years of professional acting experience. Currently a member of the Acting Faculty at Baldwin Wallace University, Heidi has also taught performance classes at Illinois State, Illinois Wesleyan, and Palm Beach Atlantic Universities. Her professional theatre administrator experienc includes creating and facilitating K-12 programs as Director of Education for the (now defunct) Florida Stage theatre company in Palm Beach, as well as serving as their Director of Individual Giving. A professional actor and proud member of Actors' Equity, Ms. Harris holds an MFA in Classical Acting from the Academy for Classical Acting at the George Washington University, and a BA in Theatre from Florida State. She has completed and performed in programs at the British American Drama Academy (Oxford), Oxford University (UK) The Globe Theatre (London), and the Moscow Arts Theatre School (Russia). In addition to appearing locally at the Beck Center for the Performing Arts, past acting credits include sharing the stage with Tony Award winner Frances Sternhagen and extensive tv/film voiceover work - including the animated film "The Ark" which debuted at the Cannes Film Festival.




Susan Reese
Board Member and Treasurer

As founder, Executive and Program Director of
Story Forum
, Susan has made her vision for kids come alive. She oversees the general organizational management and structure including working directly with students. She previously held K-12 intervention specialist positions in Shaker Heights and Cleveland Heights for 15 years, co-teaching in English, reading, math, science, and history classrooms. She additionally taught English, reading, math, and science in resource rooms. At Cleveland Heights High, she co-founded the Writing Center, and at Shaker Middle School, she co-founded the Raiders Reading program, pairing middle school mentors with elementary students. Prior to teaching, Susan worked as a retail buyer and manager. Susan's passions include helping young people find and channel their passions, develop confidence, and make friendships.
Obediya Jones Darrell
Board Member at Large

Obediya Jones Darrell is a composer and orchestrator for theatre, film, television, and radio, whose work has reached audiences worldwide.

As a music composer, sound design artist and playwright he has won two National Campus and Community Radio Association Awards for his Canadian Radio Plays. He is a member of the Playwrights Guild of Canada and has received grant funding from the Canada Council of the Arts, National Arts Center (Canada) and other notable funders to support his work. He is the recipient of Cleveland Public Theatre's 2019-2020 Kulas Theatre Composer Initiative, and produced music and sound design for their professional theatre season.

Named one of Canada's 20 Emerging Diverse filmmakers by the Toronto Reelworld Film Festival, his short musical film Energy won Outstanding Music Video in Cleveland's Short Sweet Film Festival (2019). His music video La Villa Hispana, about Cleveland's Latinx neighbourhood, won 1. Music with Lyrics and 2. Made in Ohio (mid short-form) during Cleveland's Kinodrome Film Awards (2020).

Behind the scenes he has worked as a board member to support non-profit Theatre companies and Radio societies. As a board member of Urban Ink Theatre in Vancouver, BC he approved production budgets and worked with staff to coordinate national touring schedules for the company. While a two term board member for the Simon Fraser Radio Society he initiated grant writing for Radio Drama programing.





Leilani Barrett
Board Member at Large

Leilani Barrett (SAG-AFTRA•AEA) is a veteran of stage, television, film and voiceover with 30+ years of experience working in the industry and native of Cleveland, Ohio. As a teen he began working on camera hosting for local television stations, nonbroadcast industrials, an educational tv pilot and his first feature film "Double Dragon". He studied improvisation and writing at The Second City Cleveland, ACME Comedy Co. and The Groundlings in Hollywood,CA. His voice has been heard on commercials for McDonalds, Subway, First Energy, Ohio Lottery, Nike, Sam's Club, Time Warner Cable, Cincinnati Bell and Safe Auto. On camera television and film appearances include features such as "Draft Day" with Kevin Costner, "Reel Steel" with Hugh Jackman, "Dog Eat Dog" opposite Nicholas Cage, "Curvature" opposite Glenn Moreshower, guest starring on "Gone" on NBC, "Extremely Wicked, Shockingly Evil and Vile" with Zac Efron and "The Big Ugly" opposite Ron Perlman. Currently he is an adjunct professor at Baldwin Wallace University and a Teaching Artist for Playhouse Square and Disney Musicals in Schools program.